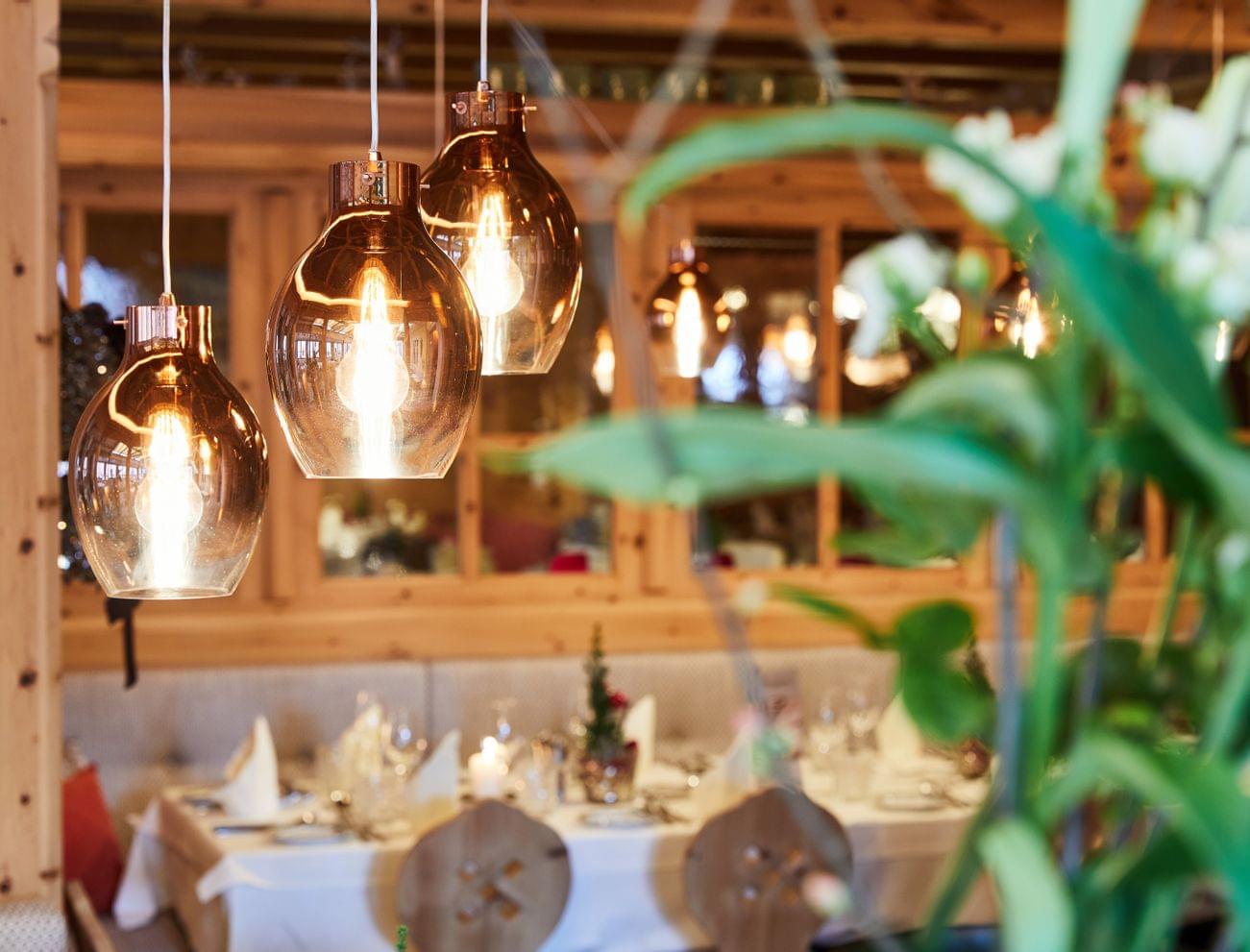 Salzburg's coziness
Our parlours
in the Restaurant in Saalbach
At the Hotel DAS NEUHAUS you enjoy your gourmet half board in our restaurants and parlors, which await you with a finely tuned atmosphere, in harmony with traditional architecture and modern design.
Trendy, traditional with that certain "something". You will surely find your favorite place quickly and experience extraordinary culinary delights there. Just like architecture and design, the cuisine in the restaurant in Saalbach has also be well thought out. Well choreographed, well thought out and well tasted. It makes you want more of it. When you think about the new nutritional trends that are emerging every day, a little grounding certainly doesn't hurt.
At DAS NEUHAUS, therefore, it's still all about sheer enjoyment. To put it in Sir Karl Popper's words, "As long as there is nothing better, the good still wins." Or translated more simply: "The most important thing is that it tastes good, does good and is good."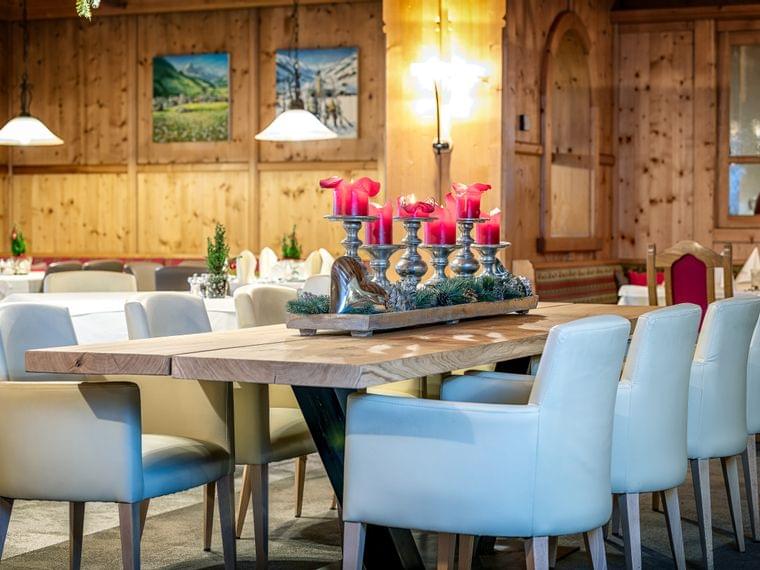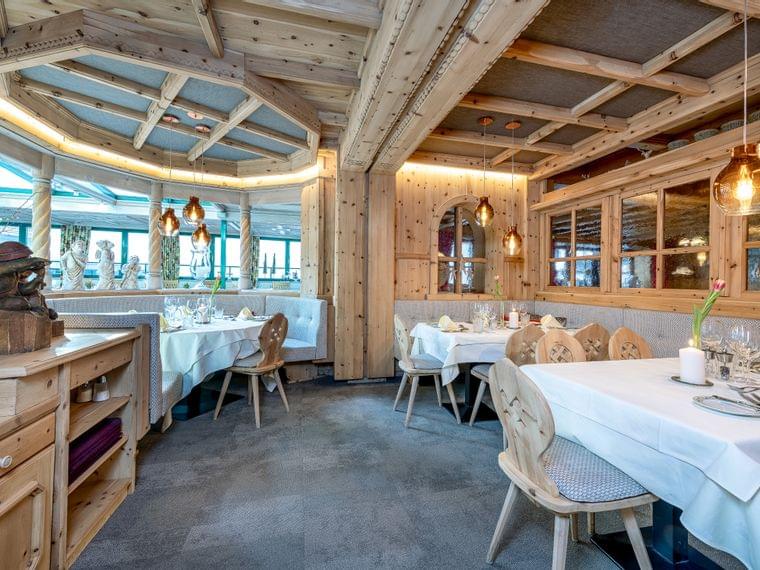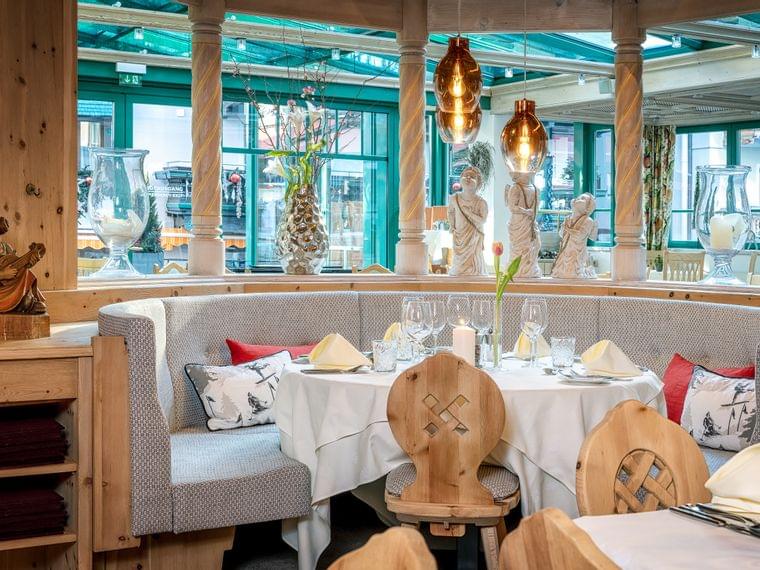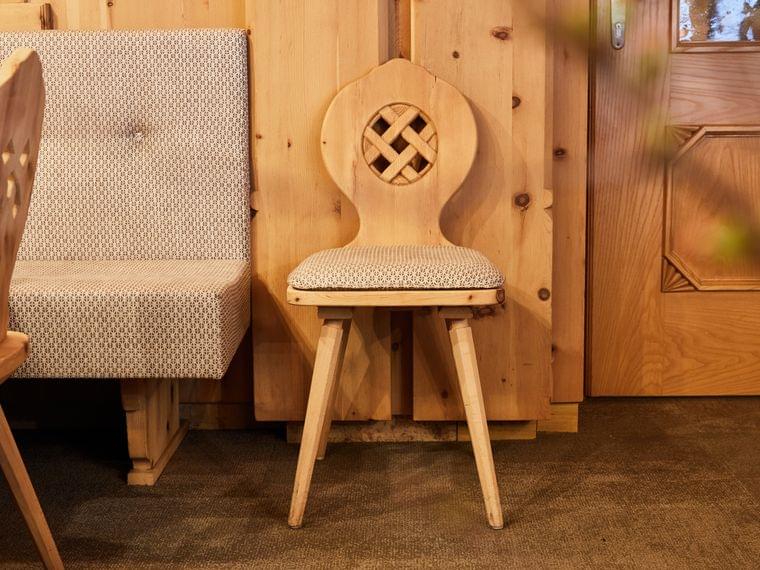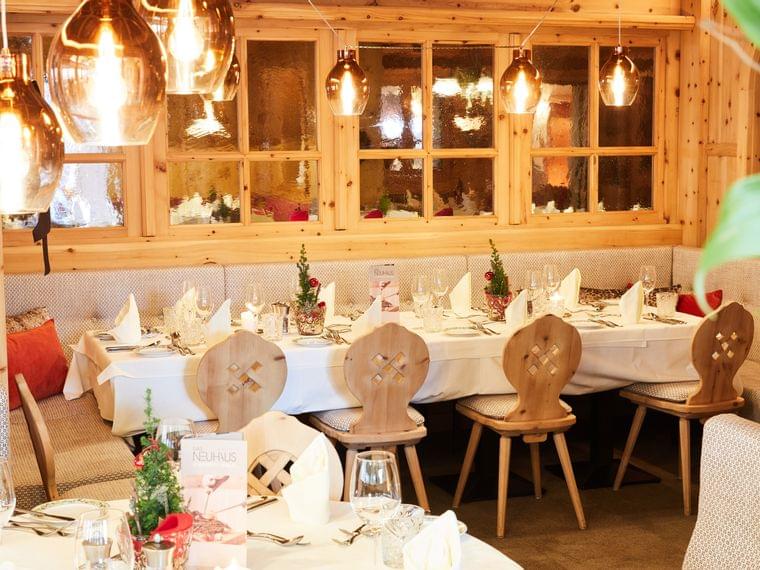 We always regard the little postscript with a wink in this day and age. Because smiling also rules the world of pleasure. Only what makes us happy gets us. That's why everything is possible and almost everything is allowed. Vegetarian is just as much on the agenda of culinary delights as vegan. Also with us in the DAS NEUHAUS. All the more important is our incorruptible orientation to the principle of the new culinary ideology, which is as simple as it is straightforward: "Healthy is what tastes good." This has been known in the Pinzgau for many generations.
That's why you can relax and enjoy the day with us at the DAS NEUHAUS. From the breakfast buffet to the lunch and afternoon snack to the delicious multi-course dinner. Depending on your mood, vegan, vegetarian, with fish or meat - always with the DAS NEUHAUS culinary dogma in mind: The main thing is that it tastes good.
The Restaurant Saalbach
Tasteful wood paneling and warm colors invite you to linger. Cozy niches give privacy, and a relaxed flair provides a relaxed feel-good atmosphere. The location of our à la carte restaurant is ideal in the center of Saalbach-Hinterglemm, and the entire restaurant area is non-smoking.
The "Wildbachstube"
Harmoniously tone-in-tone in earthy colors with colorful accents - this is where tradition meets trendy lifestyle. High-quality fabrics, rustic old wood and fine stag design lend a contemporary touch and convey a vacation feeling of alpine lightness.
The Pine Parlour
Precious pine wood paneling and rustic ambience - feel the scent of the Alps and enjoy the relaxing effect of pine wood. The often almost 1,000-year-old energy of the "Queen of the Alps, as the Swiss stone pine is also called, gives a soothing groundedness and imparts a flair to any interior design that is a bit out of time. Perfect for pausing and enjoying.
The small Parlour
"Small but nice" - if you want to enjoy a vacation with your loved ones. For large families and groups of friends the perfect ambience to be among themselves - and to celebrate vacation enjoyment like in your own living room.